QC Testing Services
At Svar Life Science, we take compliance seriously. Our QC team – working in our GMP-certified laboratory – is committed to providing you with quality services, in compliance with the latest regulatory requirements. We work closely with QA and R&D teams to provide you with an outstanding GMP Bioassay service to support the release, stability, and in-process testing of your drug.
Bioassays for all Steps in Drug Development
We offer bioassay services throughout the lifecycle of drug development. Our services include method development, qualification, validation, and continuous method improvements for early and late development projects. Our teams of scientific experts have a demonstrated track record of delivering excellent customer service. We ensure that your bioassay is well-designed and meets the needs of your drug.
Moreover, we consult clients on how their bioassays can be further developed and validated by our experienced QC team or how their existing assays can be easily transferred and optimized.
Development of Bioassays for Potency Testing
Potency assays are quantitative measures of the biological activity of a drug product or drug substance. Within drug development and pharmacology, potency is defined as the concentration of a drug needed to produce 50% of that drug's maximal effect.
Potency tests are required for batch release and stability assessment of new biological drugs to ensure the drug's continued quality, safety, and efficacy. For this reason, biological activity is a critical quality attribute for biopharmaceuticals, and its measurement plays a crucial role in the drug approval process.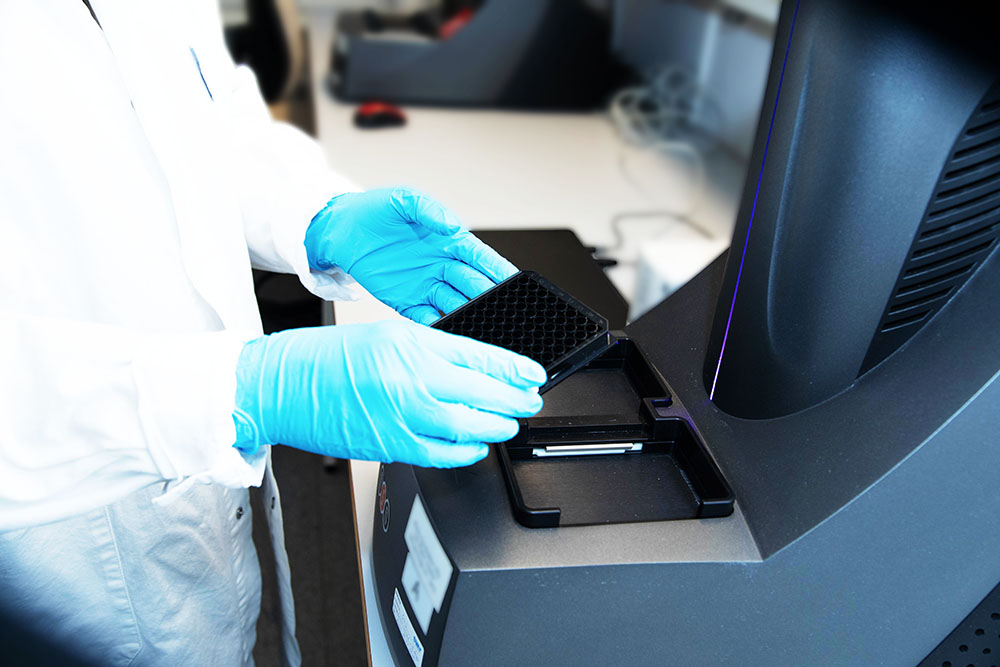 Bioassays Optimized to Your Requirements
At Svar, we take a careful approach to designing bioassays, to ensure a reliable quantification of the biological drug activity. We work together and efficiently in collaboration with our customers to ease the complex and challenging task of developing the best bioassay for your specific needs.
We ensure that challenges such as modeling the mechanisms of action are addressed early in the drug development process. Once the bioassay method is developed to support lot release and stability studies, it will also be validated according to the ICH and USP guidelines and meet the GMP requirements of the regulatory authority.
To overcome the challenge of developing and implementing bioassays in your laboratory, Svar Life Science offers the following services:
Development of GMP potency assays

Validation or qualification of potency assays for QC lot release and stability testing

Routine analysis in a GMP environment to support your GMP Stability Studies, Lot Release, and in-process testing.
We offer two types of bioassays: Ligand Binding Assays (LBA) or Functional Cell-Based Assays.
We begin our development work with a deeper understanding of the unique properties of your molecule, followed by a customized development of either LBA or Cell-Based Assays. If cell-based assays are chosen, we can offer a broad range of cell types, available as in-house products. Read about our Custom Development Services.
Our cell-based iLite® reporter-gene assays are designed to demonstrate a measurable biological response and are widely used for a reliable indication of drug activity. In general, cell-based assays are viewed as more biologically relevant than ligand-binding assays to predict the therapeutic response in a biological system.
We Help You Meet Regulatory Compliance
Our service offering is flexible, and we can adapt to your specific needs, but we also recommend following the latest regulatory guidance for bioassays:
"Ideally, the potency assay will represent the product's mechanism of action (i.e., relevant therapeutic activity or intended biological effect)"

– Guidance for Industry: Potency for cellular and gene therapy products, issued by FDA, Jan 2011
"For antibodies for which the clinical activity is only dependent on binding/neutralizing properties, a potency assay that measures binding to the target (i.e. binding assay) may be deemed acceptable, if appropriately justified. Where effector functions are relevant for clinical activity, a cell-based bioassay or another assay that takes effector functions into account should be performed"

– Development, production, characterization, and specifications for monoclonal antibodies and related products, Rev. 1, EMA, Aug 2016
To comply with the current regulatory requirements, we encourage the establishment of multiple potential potency assays as early as possible to ensure an accurate assessment of the drug's efficacy in the late phase of drug development.
Contact Our QC Team
We would love to hear from you